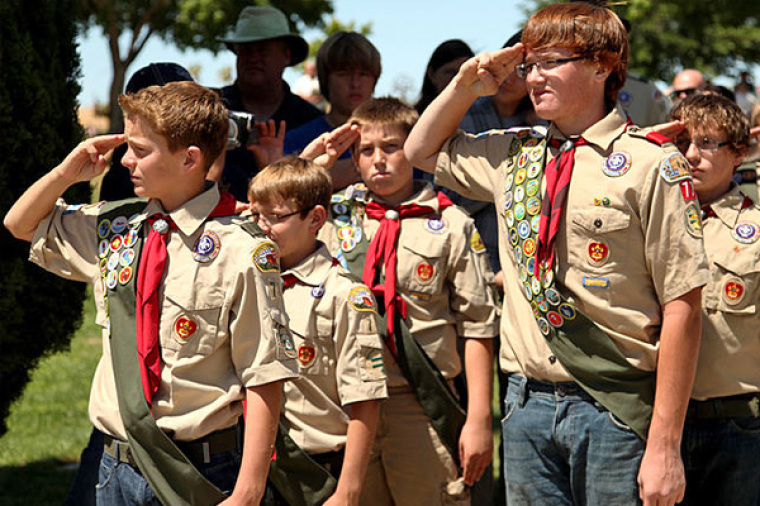 Scouts from Boy Scout Pack 77 salute the American flag during a Memorial Day ceremony at Joushua Tree Memorial Park May 28, 2012.
 | 
Wikimedia Commons/US Marine Corps/Lance Cpl. Lauren A. Kurkimilis
Eight years after lifting a ban on homosexual youth when it boasted more than 2.7 million members, the Boy Scouts of America now has just 762,000 members as it continues to grapple with some 82,000 sexual abuse claims from former Scouts, court records show.
In just one year alone, from 2019 to 2020 amid the pandemic, the BSA's flagship Cub Scouts and Scouts BSA programs lost 850,000 members dropping from 1.97 million to 1.12 million over the period. Since then, membership in those programs have fallen a further 358,000 to the current 762,000 according to figures recently reviewed by The Associated Press.
Lawyers for the BSA, which is going through a federal bankruptcy process as a result of mounting sex abuse claims from former Scouts, are negotiating the creation of a $250 million trust fund for victims.
Earlier this year, the BSA proposed in its revised bankruptcy plan, to issue an unsecured promissory note for $80 million for the victims' trust fund and to use its restricted assets to cover post-bankruptcy expenses, the Rockland County Times reported. Changes to the youth organization's original Chapter 11 filing increase the contribution the BSA would make to the trust fund from $120 million under its previous plan to $250 million.
The BSA's President and CEO, Roger Mosby, told the AP that its 252 local councils will have to sell off properties to help cover the claims.
"We understand that this is a difficult and often emotional decision, but in some instances may be a necessary step as we work toward our shared imperatives of equitably compensating survivors and continuing Scouting's mission," Mosby said in a statement.
TLUSA
Troop MN-0102 from R

ochester, Minnesota during their trip to the top of Cloud Peak in the Big Horn Mountains of Wyoming in August.
The Greater Hudson Valley Boy Scouts of America in New York has already listed three of its mid-Hudson camps, including Camp Bullowa in Stony Point, as available for purchase, according to Rockland County Times.
Jim Monaghan, supervisor of the Town of Stony Point, told the publication that he spoke with the Greater Hudson Valley Council of the BSA, CEO Richard Stockton, about the possibility of the town purchasing the property.
"If there is an opportunity to buy it, I certainly think it would be a tremendous asset for the town and for its future," Monaghan said. "It is a wonderful recreational area that could still be used by local groups for camping and for scouting."